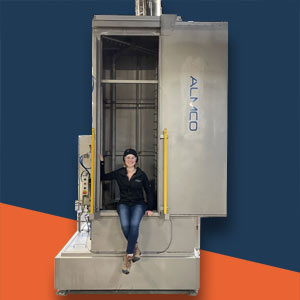 Imagine washing a 6-foot aluminum extrusion with precision and ease – ALMCO recently made this a reality for a manufacturer in the EV industry. We recently manufactured 2 large cabinet washers. The first washer was around 10 feet 6 inches tall and the second was close to 11 feet 6 inches.
The cabinet washers were custom-made to accommodate long, aluminum extrusions. These extrusions hold the batteries in electric vehicles. The extrusions will be manually loaded and unloaded onto a turntable and one of the washers will eventually be robot-integrated, enabling it to be loaded and unloaded via robot.
The washers have three stages: Wash, Rinse, and Blow-Off. The turntable will rotate continuously while the Washer runs through its timed wash and blow-off cycles. The process of cleaning these aluminum extrusions is vital to the manufacturing process, as they must be thoroughly cleaned of water-soluble coolant and chips before the welding process can begin. A clean part is essential for creating quality welds.
The electric vehicle industry is on the rise, and our team is proud to be a part of it. If demand in the EV Industry continues, our customer has plans to purchase a third washer in the future.
Creating Custom Solutions for Your Unique Applications
At ALMCO, we're all about finding solutions that work for you. Our team enjoys taking on new challenges and creating custom equipment solutions that meet the specific needs of our customers. Whether you're in the automotive industry like our recent customer or another industry entirely, we have the expertise to design and manufacture the equipment you need.
We're passionate about innovation and providing high-quality service, which is why we're always expanding our capabilities and looking for new ways to meet the evolving needs of our customers. So, if you have a unique application and need a custom equipment solution, don't hesitate to reach out. It would be our pleasure to discuss your project with you and see how we can help you achieve your goals.