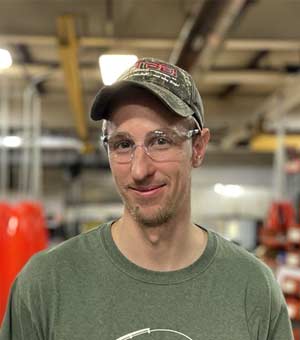 Brady Swanson is a Fabricator at ALMCO and joined the team last year in July 2022. He went to South Central College in Mankato, MN for welding, and also went to Hennepin Technical College for classes in Home Inspection and Building Inspection.
In his position as a Fabricator, Brady performs a variety of tasks including welding, brake press, picking parts, and assembly. He enjoys being able to work in various areas of the ALMCO shop and the variety his job brings. "Brady caught on very quickly. I'm able to move him to multiple locations and he's very versatile and does a good job," state Kevin Viktora, ALMCO Production Manager.
When asked what working for an employee-owned company means to him, he responded, "I feel my job is more secure here than any other place I've been. The ESOP is also a great benefit to have. The better everyone does, the more our ESOP grows."
Brady has a wife and 2 cats (one cat is 14 years old). In his free time, he enjoys playing video games and researching and investing in the stock market. He previously lived in Mankato, MN for 7 years and recently moved to Albert Lea.
Thanks for your hard work and dedication, Brady. We're glad to have you on the team!