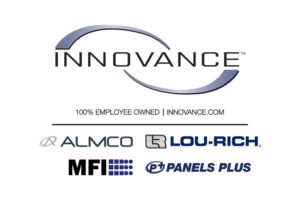 Innovance is the holding company for a family of four, 100% employee owned, Minnesota-based manufacturing companies. ALMCO is one of four manufacturing companies operating under the Innovance organization, along with Lou-Rich, Mass Finishing Inc. (MFI), and Panels Plus.  
Formed in 2004, the name Innovance comes from two defining characteristics of the organization: innovation and performance. Our unique and varied mix of industrial manufacturing capabilities assures our customers we are committed to developing solutions that help solve their most challenging business issues. We collaborate across the organization to grow our employee share value, deliver outstanding customer experiences, and become the most respected companies in our communities. Awarded a Best Place to Work for several years in a row, our 400+ employee-owners strive to make every customer interaction a great one. 
Learn more about Innovance and its family of companies at www.innovance.com. 
Innovance Core Values 
Conduct business with integrity and respect.

 

Maintain a positive, challenging workplace and a healthy work-life balance.

 

Sustain a safe and secure working environment through a collaborative culture.

 

Broaden employee job skills with professional development, education, and training.

 

Embrace innovation and technology to deliver exceptional performance for our customers.

Operate with social responsibility to our community and the environment.