A few words from our General Manager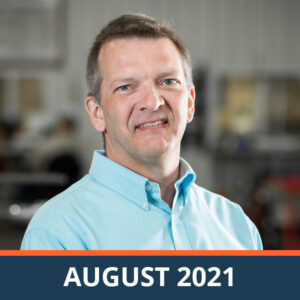 Greetings! I hope that you are having a good summer. The year is moving by quickly and there is no lack of excitement. There are many challenges this year that have made some areas of business more difficult. The return of most things to the "normal" condition has sure been a relief, or at least it was it until recent upticks in COVID-19 cases. The health and wellbeing of our employee-owners and visitors is our highest priority and we are closely monitoring CDC and Minnesota Department of Health guidelines
It has been a challenging year with supply shortages and ALMCO was impacted the most in the second quarter. There continues to be issues with deliveries due to supplier delays, and there were several orders in the last quarter that were delayed due to product availability. Thank you for your patience if your media, compound, service part, or equipment order was late last quarter. We will continue to work hard to resolve any supply issues. We have been working to find alternatives, and in most cases, we've found solutions and we are striving for on-time product delivery.
In addition to supply chain issues, we've seen a significant increase in material costs. ALMCO has worked hard to hold our pricing by keeping our costs level from year-to-year. Many of the parts we use in our products have gone up from 10% to 40% and the steel prices are up 79% since the start of 2021, and 313% since the low point in 2020. As a result, we have had to raise prices accordingly. I assure you that we will keep the increases to the smallest amount possible. Thankfully, due to mainly supporting local, regional, and national companies for purchasing our parts, we've been able to reduce the impact of product shortages as we aren't as affected by overseas shipping issues.
On a more positive note, Kathy Carter, our Media and Compound Manager has just reached an incredible milestone of 40 years of dedicated service to the ALMCO team this July. Kathy has done a great job of helping our customers to get the supplies they need to keep their production going. She is a very dedicated worker and gives her full effort to customer satisfaction. Any of you that have worked with Kathy know that she has your back. Please help us to congratulate Kathy on this exciting anniversary!
We have been recently surveying many of our customers after their purchase and use of their ALMCO equipment over the last year or so. This is part of our continuous improvement effort to improve our sales process and customer experience. So far, we have received outstanding, positive feedback. In fact, when asked to score ALMCO on a scale of 1-10 on their likelihood of recommending ALMCO, the average score was 9.6. I feel good that the changes we started implementing in 2019 have taken hold and are resulting in a better experience for our customers. Thank you to all that have given your feedback. We will continue to look for improvement opportunities.
As we go through the third quarter, I hope that your business continues to grow and be successful. May you stay healthy and have plenty of opportunity to enjoy the end of summer!
Best Regards,
Tim Grahn
General Manager