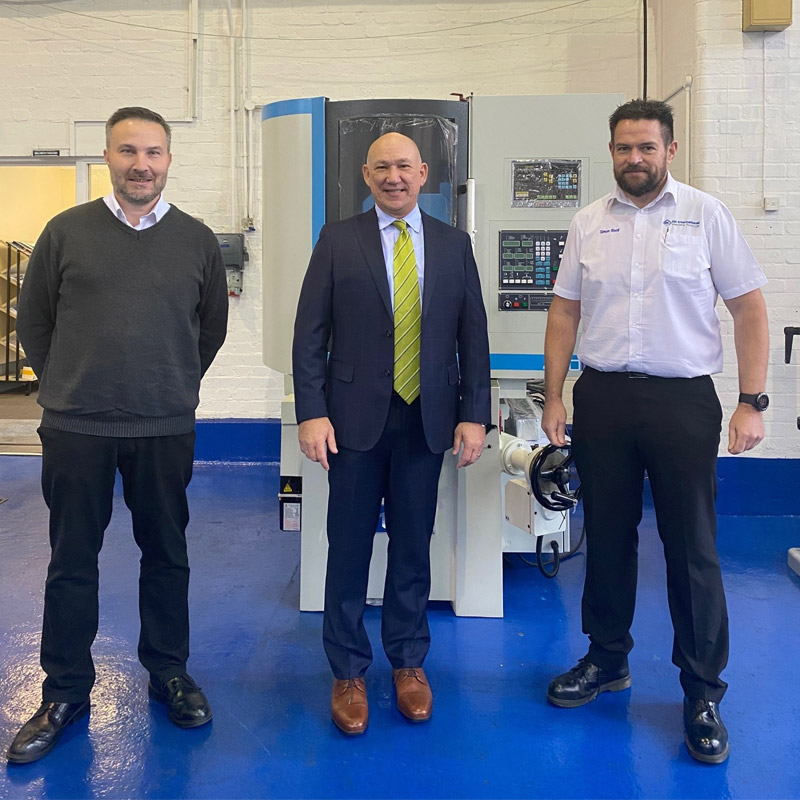 The ALMCO Team is thrilled to be taking even greater steps to grow our business internationally in 2022. We recently have announced the addition of a new distributor, RK International Machine Tools Ltd. They are based in the United Kingdom and will help us provide industrial finishing and parts washing equipment to Western Europe. You can read more about this exciting new opportunity in the press release below:


ALMCO Announces New Distributor in the United Kingdom
ALBERT LEA, MN – January 24, 2022 – ALMCO is pleased to announce RK International Machine Tools Ltd. as a new distributor in the United Kingdom. Based in the London area, with customers throughout the UK and western Europe, RK International will take on the entire ALMCO equipment line of vibratory finishing equipment and parts washing & drying equipment.
As part of a long-term strategy to increase international sales, ALMCO identified the UK as an area of potential growth. RK International's expertise in helping companies solve complex manufacturing challenges, along with their commitment to customer success, make them an ideal distributor for ALMCO's assortment of products. "Their reach in the market, alignment with our own Core Values, and unwavering customer service make RK International a great fit," said Tim Grahn, ALMCO General Manager. "Our team is excited for future opportunities to help UK-based companies with their industrial finishing & parts washing and drying needs."
"The range of equipment, manufactured and supported by ALMCO, slots nicely within our product range & core beliefs of offering our customers, high-quality equipment that has been designed to last, as well as having exceptional support on the product," comments Simon Rood, Director and General Manager at RK International.
"Having worked closely with the team at ALMCO on a recent UK installation of a twin spindle, rotary deburring machine with automation, we were very pleased from our initial discussions through to installation at commissioning the machine," Mr. Rood concludes.
About RK International Machine Tools Ltd.
RK International Machine Tools Limited was established in 1951 in Erith, Kent, and is a privately owned company, spanning three generations. RK International is a supplier of quality machine tools, including turning, milling, grinding, finishing, sawing, drilling, thread rolling, and fabrication equipment. From initial quotation to final commissioning, they provide a variety of services including delivery, equipment offloading, final positioning, training, and after-sales services.
Committed to offering a quality product complete with a quality service, RK International was awarded BS EN ISO 9001 Quality Assurance in 1995. This program continues to be in operation now, further enhancing client confidence.
About ALMCO
ALMCO was founded in 1946, in Albert Lea, MN, and just recently celebrated its 75th Anniversary this past year. In 2004 it was acquired by Innovance Inc. and continues to operate out of its Albert Lea headquarters. Innovance is 100% employee-owned and operates four industrial manufacturing brands, including ALMCO.
ALMCO Inc. is a leading manufacturer of Industrial Parts Finishing Equipment and Parts Washers. They offer an extensive range of products and services from vibratory finishing and deburring equipment, industrial parts washers and dryers, and fully custom equipment to fit their customers' specific finishing and cleaning needs. Their equipment is proudly made in the USA and serves a wide variety of industries.
For more information contact ALMCO Inc. at sales@almco.com or call 1.800.521.2740.