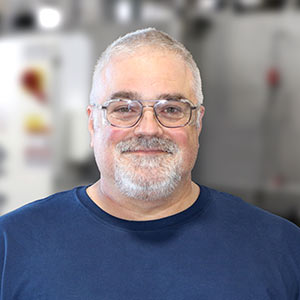 Today, we are highlighting Ken Viktora, our Process Lab Technician. Ken took over the Process Lab Technician role after Stephanie Eisenmenger was promoted to Media & Compound Sales Manager last year. Ken has an AAS Degree in Marketing and Sales Management. He has a background in customer service, and has supervisory experience in production, maintenance, and shipping. He also has experience as a production manager. "I'm hoping to bring some positive insight to the team with my previous background," stated Ken.
As a Process Lab Technician, Ken helps customers develop a finishing and/or washing process to best meet their needs. He also leads customer run-offs to ensure products performed at the highest quality for our customers' specific applications. Ken enjoys "getting to do something different every day and being able to give customers solutions to the challenges they face for their product." He understands the importance of excellent customer service and strives to ensure that every customer feels like part of the ALMCO team.
When asked what working for an employee-owned company means to him, he replied, "It's very self-gratifying being able to have ownership in the company and working with a team where everyone shares the same interest in making the company as successful as possible."
Outside of work, Ken enjoys hunting and fishing. He and his wife have been married for 32 years and have two daughters and two sons, as well as three granddaughters and two grandsons.
We are grateful for Ken's contributions to our team and look forward to seeing what he achieves in the future. Thank you, Ken!