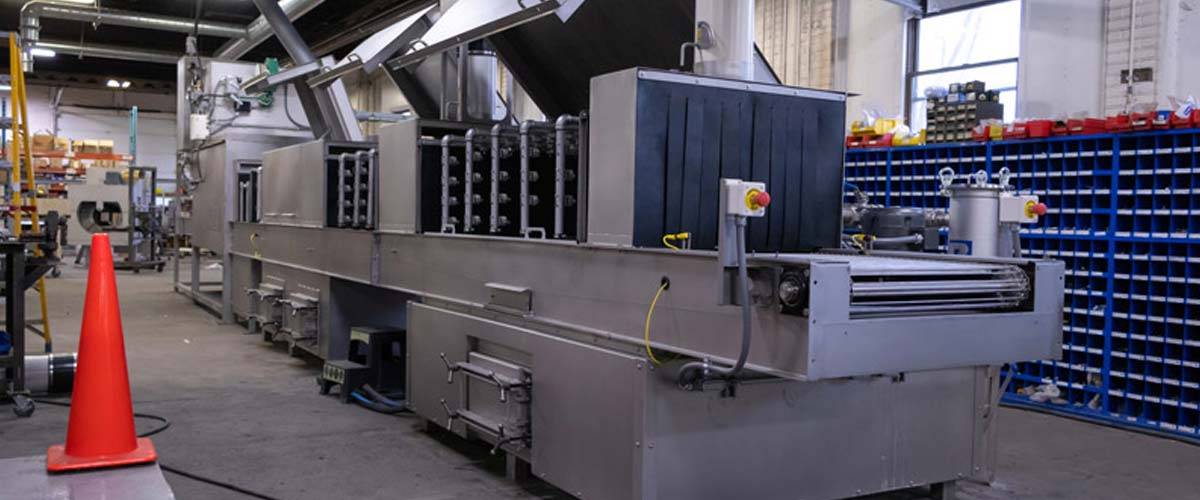 Our inline conveyor washers are made of stainless steel and are capable of cleaning high-volume parts through a multistage process. A continuous belt feeds parts through the washing, rinsing, and drying chambers where contaminants are removed. The heavy-duty construction means no equipment downtime, making ALMCO the safe and reliable choice.
Adjustable spray nozzles offer 360-degree parts coverage, and the blow-off chamber contains a powerful air blower that removes residual water. This top to bottom coverage, in addition to the chemistry, makes it possible to get 100% completely clean parts. Rust inhibitor chambers are also available to ensure parts remain rust free.
Regional Sales Manager, Tyler Jorgenson describes the inline conveyor washer process as being like an automatic car wash. Tyler states, "Our belt washers are like car washes for parts. They move the parts through stages at a continuous rate and once they are in the machine, the operator will not have to touch them again until they are clean and dry."
These industrial washers have found homes in agriculture, automotive, aerospace, die casting, medical, machine shops, munitions, and military industries.
This washer can be customized to match your exact application.
Features
Multi-process stages customized for your application
Variable speed, stainless steel system
Removable chip tray in wash
360-degree adjustable spray nozzles
Temperature regulated wash and rinse tanks
Automatic water and compound replenishment
Options
Insulated wash and rinse tanks
Temperature regulated blow-off and air knives
Vapor exhaust system
Stainless steel filtration units
Oil skimmer or coalescer
Variety of belt widths and materials
Most common belt sizes: 12", 18", 24" (wider, custom options are available)
Touch screen controls
UL 508A electrical controls
Learn more about inline conveyor washers on our website, or contact our team with any questions you may have.