A few words from our General Manager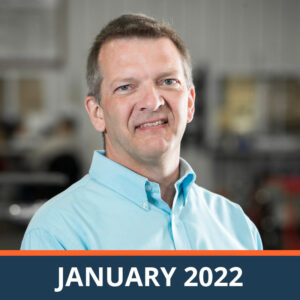 Happy New Year!
Thank you to our great customers and distributors for making 2021 a successful year for ALMCO. We had a record number of incoming orders and I appreciate your business and trust. I believe a great part of our success is due to our staff and the emphasis they place on our customers. We truly have a company made up of individuals that care and want to give our customers the best equipment, parts, supplies, and service possible. I am fortunate to work with such a group and feel that you will notice the difference when doing business with ALMCO.
When I started as the General Manager in 2019, I made a commitment to our customers to make sure that our machines performed to our customers' project requirements or to "make it right." The ALMCO sales team works to identify our customers' exact needs, the engineering group defines and documents project requirements, and the manufacturing team makes sure that the machine is built and functions properly. We currently have a company metric that we monitor on warranty costs. It is designed to drive continuous improvement, and I'm pleased to say the results have been positive. ALMCO equipment shipments are growing each year and our warranty expenses are falling, even though we have better warranty coverage than we've ever had before.
This year we anticipate having similar challenges in 2022 due to COVID and the continuing supply chain shortages. We are doing our best to work around those issues by finding alternatives for most parts that are currently unavailable. We do have some concerns for the next 6 months on supply shortages for electrical parts, cylinders, burners, media, and a few other components. It has been difficult at times to provide accurate delivery dates on equipment, as some suppliers are not able to give us dates on the products we have on order. I ask for your patience during this challenging period. ALMCO has been fortunate, as we have been able to supply processing media even when the supply has been low elsewhere. We will continue to work to provide the media that you need.
In other news, our parent company, Innovance, is creating a new Research and Development group that will be used by all the Innovance companies. This group will focus on new product development without the interruption of our production and engineering teams. There are several new product ideas for the ALMCO product line that will be sent to the R&D group this year. I look forward to the new equipment opportunities and equipment options that will come out of this group.
Thank you for your business. I hope you and your company have much success in 2022.
Best Regards,
Tim Grahn
General Manager