Our process development and research laboratory in Albert Lea, MN is where "The Science of Finishing" concept begins. With over 30 different pieces of equipment at their disposal, our experienced technicians and engineers have the resources to test various finishing methods to find the best and most cost-effective option for your application.
Choosing the correct finishing method is a complex formula with many factors including machine, media, compound, and time among others. ALMCO has been refining this process of discovery for over 70 years and has become the industry standard.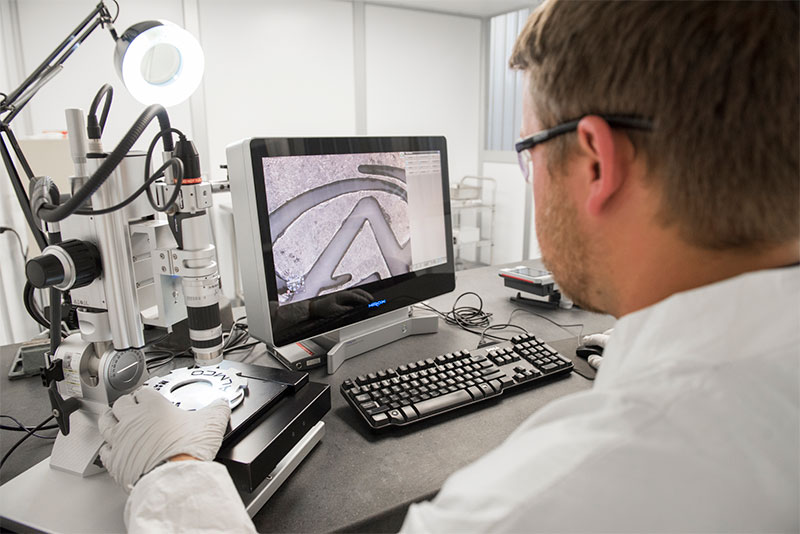 For no cost or obligation to you, ALMCO offers:
Sample parts testing and process development in our lab.
Parts returned with a detailed lab report within 2 weeks of arrival.
With purchase of recommended equipment, media and compound; ALMCO process results are guaranteed.
Experience savings opportunities for parts finishing through our free sample processing offer. Send in your quantity of unfinished parts, along with specific requirements that must be met and ALMCO will process them using various medias, compounds and machines until an optimum combination is found.
Please fill out our SAMPLE PROCESS REQUEST FORM to find the right solutions to your needs!
Visit our ALMCO facilities including over 8,000 sq. ft. of the newest up-to-date technological finishing and cleaning equipment available for free process development. Includes a 12' x 24' climate controlled post processing cleanliness test and evaluation room complete with customer conference area.
Our state-of-the-art test room has a wide range of capabilities:
Millipore Testing
Precision Digital Scale
Laboratory Test Oven
Contact Surface Profile Measuring
Conference Area
Hirox Digital Microscope

Up to 3200x Magnification
Non-Contact Surface Profile Measure
3-D Imaging
Edge-break and Radius Measuring
Motorized X+Y Platform