CENTRIFUGAL BARREL FINISHING MACHINE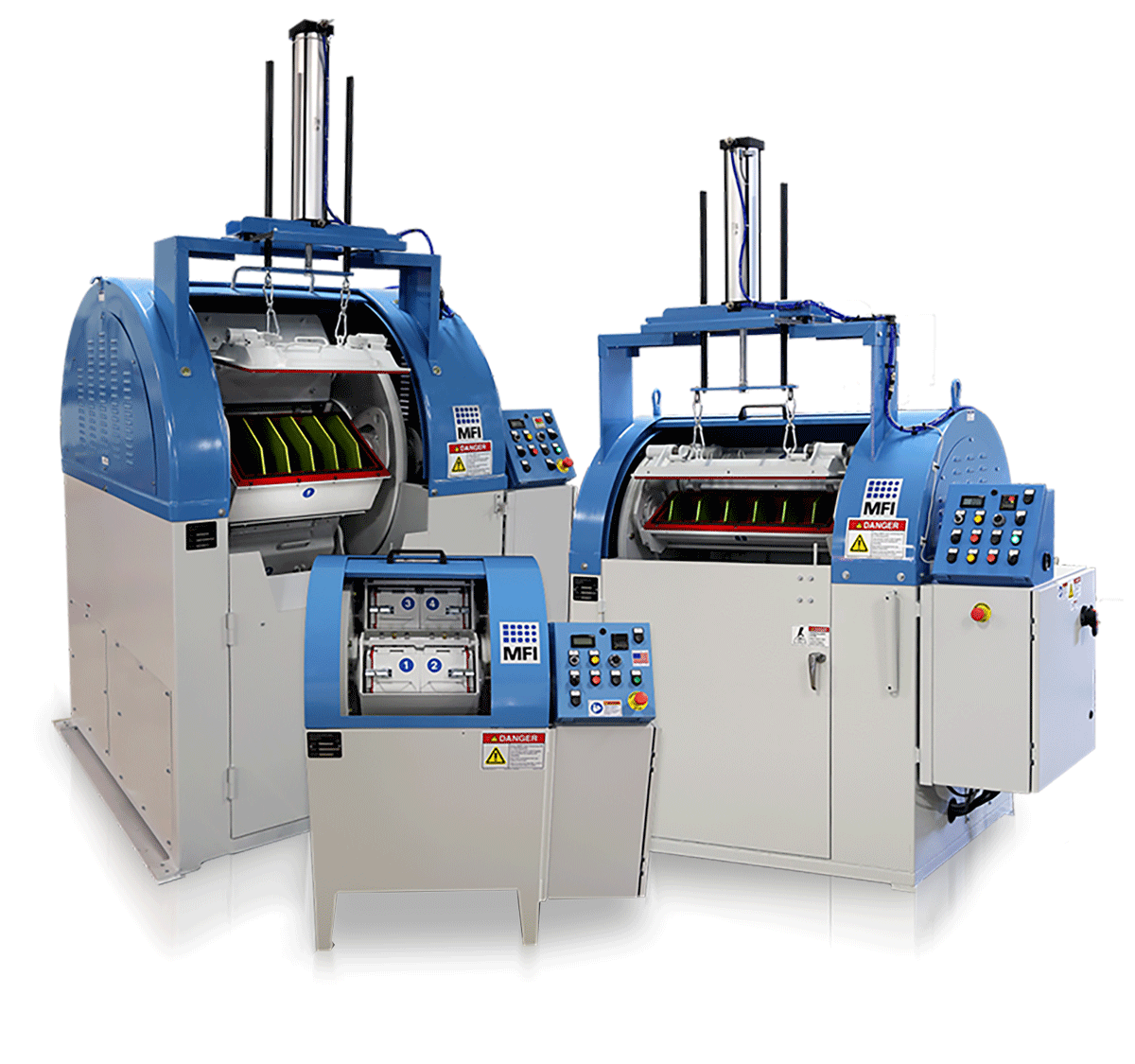 Fast & Compact
Mass Finishing Inc. (MFI) is the sister company of ALMCO. As such, ALMCO represents the full MFI product line. The HZ High Energy series Centrifugal Barrel Finishing (CBF) systems are fast and compact finishing machines. Often called "tumblers" or harperizers, they are the industry workhorse in metal polishing, deburring, and deflashing parts. From jet engine blades in the aerospace industry to heart valves and medical implants, these tumbling machines are the versatile and money-saving solution for polishing and deburring.
How It Works
Centrifugal barrel finishing machines operate on the "Ferris Wheel" principle with a one-to-one ratio of barrel rotation to turret rotation. Each of the four barrels is loaded to roughly 50-80% full of media, parts, water, and compound. During operation, rotation of the turret creates a sliding force inside the barrel. This motion causes parts and media to contact each other in random or isotropic directions. The resulting finish is consistent across the entire surface of the part.
Features
Barrel Dividers
Keep precision parts separate during the tumbling process to avoid damage.
Cover Lift
Pneumatic system for easily opening barrels.
Eliminates heavy lifting of covers.
Media Separator
Dump full barrels to easily separate media and parts.
Options
Safety Light Curtains
Added measure of safety during loading/unloading processes. Disables all machine functions when infrared curtain is broken.
PLC Options
Store processes for various parts and cycles steps.
Allows for more automation and machine monitoring. Standard panel features analog buttons.
| Model No. | Working Capacity (Cu Ft.) | Tank Capacity (Liters) | Barrel Size | Drive HP | Overall Dimensions (In) |
| --- | --- | --- | --- | --- | --- |
| HZ-12 | .42 | 12 | 8.375″ L x 5″ Diam. | 1 | 34 x 30 x 55 |
| HZ-40 | 1.4 | 40 | 12.5″ L x 6.875″ Diam. | 3 | 47 x 38 x 49 |
| HZ-60 | 2 | 56 | 25.75″ L x 5.875″ Diam. | 5 | 68 x 39 x 94 |
| HZ-85 | 3 | 85 | 33.5″ L x 6″ Diam. | 7 | 75 x 39 x 94 |
| HZ-120 | 4.7 | 133 | 17.25″ L x 10.25″ Diam. | 10 | 71 x 57 x 75 |
| HZ-160 | 7.1 | 200 | 20.75″ L x 12″ Diam. | 15 | 89 x 40 x 90 |
| HZ-220 | 8 | 227 | 27.5″ L x 11.5″ Diam. | 15 | 81 x 57 x 75 |
| HZ-330 | 12.8 | 362 | 42″ L x 12″ Diam. | 30 | 90 x 56 x 80 |