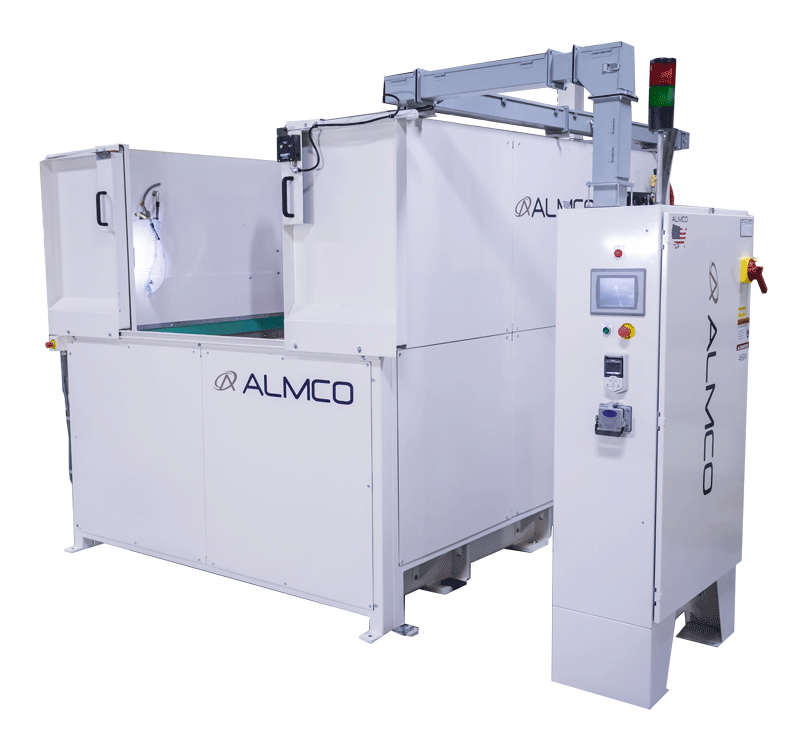 This model finishes parts primarily through the movement of the spindle. In the CFT Series, the spindle does all the work, and the part rotates at a high speed and at various angles within the tub of vibrating media. In addition to having the ability to position the spindle in various angles within the tub, it also can swing back and forth through the media as the spindle rotates – similar to the motion of a pendulum. It also has the ability to stop mid-cycle and change rotation direction. This motion allows the media and processing liquid to flow through the part's features to deburr the edges and blend surfaces.
Equipment Movement:
Tub: Vibrates. No rotation.
Spindle: Rotates and moves in various angles and directions.
Spindle Orientation
| Model No. | # of Spindles | Spindle RPM's | Max Part Diameter | Drive HP | Overall Dimensions (In) |
| --- | --- | --- | --- | --- | --- |
| CFT-2000 | 1 | 200-1200 | 18 | 30 | 60 x 133 x 96 |
| CFT-2500 | 1 | 125-750 | 30 | 24 | 69 x 107 x 94 |
| CFT-3000 | 1 | 125-750 | 40 | 50 | 92 x 108 x 100 |
| CFT-4000 | 1 | 43-258 | 40 | 50 | 92 x 108 x 100 |
| CFT-6000 | 1 | 15-235 | 55 | 125 | 120 x 186 x 150 |