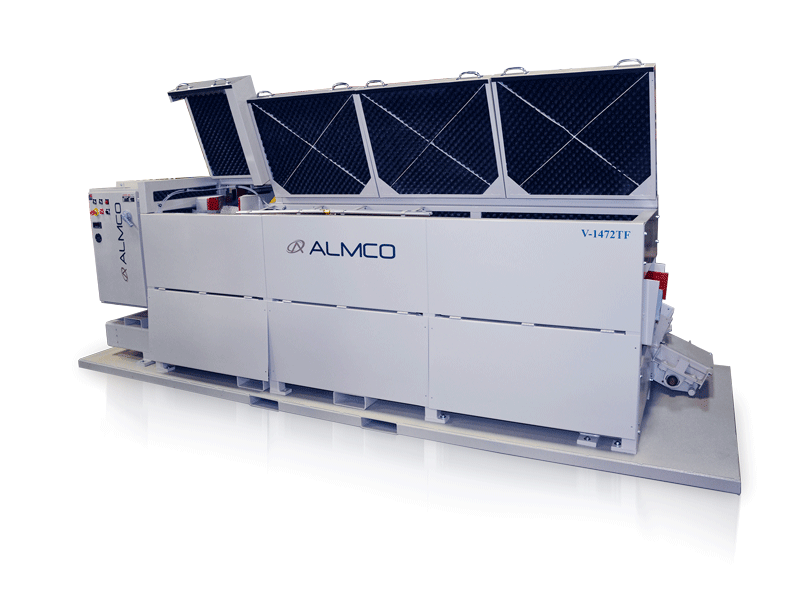 Robust & Versatile
The Continuous Thru-Feed Series vibratory finishing tubs are known for their ability to process parts at a high production volume. Integrated with material handling systems such as an oscillating parts-media separator and media return conveyor, this series allows for continuous parts processing.
These machines work great as a stand-alone operation or designed into a custom system with conveyors and material handling equipment for automatic loading and unloading.
The tub cross-section is designed to maximize the finishing action. These machines are robust, versatile and capable of processing parts in a through-feed mode using a wide variety of finishing media.
How It Works
Parts can be continuously fed into the vibratory tub, they are then processed and discharged along with the media onto a screener. The media is then returned to the tub via a return conveyor to the load end of the vibratory tub. Parts can then be transferred down the production line via containers, conveyors, or other means of transportation. This series is excellent to incorporate with automatic parts load and unloading mechanisms for increased efficiencies.
When parts and media are placed into the tub, the counterweights on the spinning vibrator shaft cause the spring-mounted processing tub to rapidly oscillate on its springs. This motion causes the mass of parts and media within the tub to vibrate and roll within the tub in an orderly fashion. This rolling action can be controlled by adjusting the speed of the vibrator assembly and by changing the amount of counterweight.
Features
Wet or dry processing capabilities
Variable amplitude for process adjustment
Heavy duty polyurethane lining
Ability to run steel media
Automated loading and unloading
High volume production
Options
Automatic lubrication system
Flowmeter
Automated loading and unloading
Sound enclosure
Adjustable tub pitch angle
UL 508A electrical controls
| Model No. | Working Capacity (Cu Ft.) | Tub Cross Section (In) | Tub Length (In) | Drive HP | Overall Dimensions (In) |
| --- | --- | --- | --- | --- | --- |
| V-1472TF | 6.5 | 14 | 72 | 7.5 | 176 x 58 x 78 |
| V-14156TF | 17.5 | 14 | 156 | 10 | 300 x 73 x 117 |
| V-1696TF | 13 | 16 | 96 | 15 | 270 x 60 x 118 |
| V-19114TF | 22 | 19 | 114 | 15 | 272 x 70 x 120 |
| V-16155TF | 20 | 16 | 155 | 20 | 314 x 73 x 129 |
| V-19229TF | 43.5 | 19 | 229 | 40 | 500 x 99 x 161 |
| V-23189TF | 48 | 23 | 189 | 40 | 370 x 84 x 135 |
| V-23239TF | 62 | 23 | 239 | 50 | 375 x 107 x 130 |